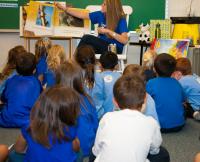 Positive Behavioral Interventions and Supports (PBIS) is a school-wide system of interventions leading toward a positive learning environment for students. We know that students learn better ways of behaving when they are taught directly and they receive informative and positive feedback on their performance.
Here at Bauder, we teach our students what it means to be Bauder BUCKS.
Be respectful
Understanding
Cooperative
Kind
Safe
The expectations of behavior are posted in every classroom. The Bauder BUCKS acronym is posted in classrooms, in the hallway, in the lunchroom, and the bathrooms. At the beginning of each quarter, teachers review/revisit the Bauder expectations in the classroom.
Teachers and other adults recognize Bauder Buck behavior through the use of our paper "bucks". 
Students receive Bucks when they demonstrate positive behavior in the school setting. Every Friday, the paper "bucks" are collected for our weekly drawing. Students in the primary grades who have their names drawn get to wear a special Bauder leadership t-shirt for a week. Intermediate students have the privilege of wearing a hat of their choice for a week.
     
If you have questions about PBIS and what it looks like in your child's classroom, please feel free to contact your child's teacher. Bauder also has a PBS team that meets twice monthly to look at data and to plan school-wide events to recognize outstanding behavior.

For more information, please visit the PBIS homepage.